Benkelman Beam
AUTOMATED MEASUREMENT & RECORDING SYSTEM
The Shamrock wireless electronic Benkelman Beam is an automated system for measurement and reporting of road pavement deflection. The system combines a linear displacement electronic transducer, wireless PDA, Global Positioning System (GPS) and simple to use software to produce faster, more accurate, and less labour intensive measurement and reporting of road pavement deflection.
BUILT IN WORKFLOW SAFETY AND EFFICIENCY
The heart of the system is the workflow built into the software on the PDA. Jobs for the day or week can be loaded before heading into the field. When the field worker arrives on site they select the job and work through a quick checklist of site set-up actions.°

With the Shamrock wireless electronic Benkelman Beam in place, the GPS coordinates are accepted by the field worker and automatically appended to the file. Sketches and photos can also be added to help locate the site in future. As the vehicle is moved to the Start, Intermediate, and Final positions, the measurement data is transmitted from the Shamrock wireless electronic Benkelman Beam directly to the PDA for acceptance by the field worker. After all measurement sites have been completed for the job, the end time is recorded and the job is closed. The job data and associated sketch and photo files are now ready for wireless transmission to the office PC and reporting software.

The benefits are clear:
Field workers are reminded of safety procedures and confirm they have been carried out.
Measurement time is reduced — no need to look at dial gauges or write down readings.
Paperwork is reduced — reports can be automated.
Transposition and typographical errors are eliminated — data transfer is wireless.
Job management and billing is enhanced° - time sheeting is built in.
Site plan recording is improved — GPS readings can be overlaid on maps.
Work-in-progress can be tracked — unfinished jobs on the PDA can be revisited and resumed.
HIGHLY ACCURATE DEFLECTION MEASUREMENTS
The Shamrock wireless electronic Benkelman Beam is of robust but light weight construction. It incorporates a precision rotary encoder with measurement resolution of +/- 0.01mm.° The measurements are digitized and transmitted from the beam via Bluetooth" to the PDA.
JOB REPORTING
All the information from the job can be exported instantly via email (cell phone enabled PDAs) or on return to the office. Road pavement deflection results are calculated real-time so clients can be informed instantly. The data file is exported in a format for easy integration with the Microsoft¤ Office" suite of applications, and many different database, spreadsheet, GIS, and other specialized reporting applications.
STANDARD PACKAGE
Components included in the standard package are:
Benkelman beam, measurement transducer and transmitter module.
Battery charger.
Compatible PDA with built-in camera and cell phone e.g. i-mate PDA2K
Bluetooth" GPS receiver e.g. AnyCom GP-600 or similar.
CD ROM containing the manual and software.
Robust carry case. (optional)
CUSTOMISATION
Enquiries are welcome for customisation of any component of the standard package, including mechanical, electronic, and software to meet customer specific needs.
BUILT-IN WORKFLOW SAFETY & EFFICIENCY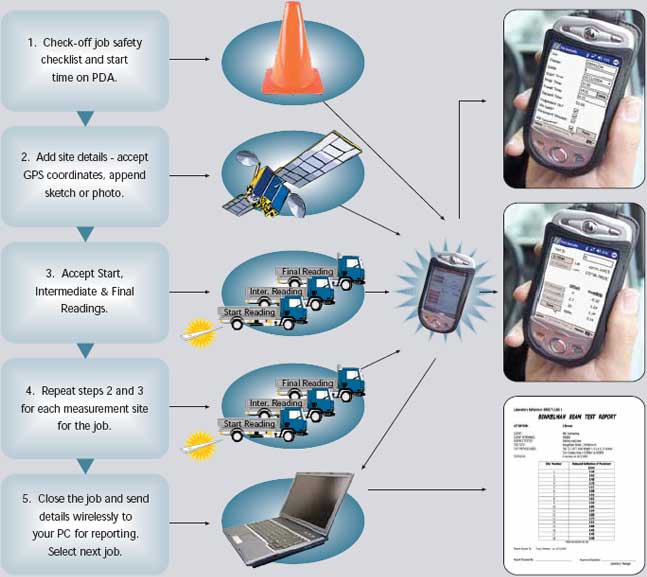 SPECIFICATIONS
Beam:
Conforms with Transit NZ specification TNZ T/1

Measurement transducer:
Resolution to +/- 0.01mm.
Max 286 mm travel.
Operating temperature range -20 to +80C.
Bluetooth communication:
Class 2, 10 metre range subject to clear line of sight. (Custom solutions available for customer
specific requirements).
Battery:
Rechargeable 12V, sealed, 20 hour operating time, c/w 240V battery charger.
Global Positioning:
Accuracy less than 10 metres, typically 3 — 5 metres.
12 channel all in view tracking.
Operating temperature range -10 to +50C.
Acquisition cold start less than 45 seconds, warm 38 seconds, hot 8 seconds.
PDA minimum performance:
400 MHz processor, 64 MB RAM, Built in Bluetooth" connectivity, Expansion slot for SD
Card or Compact Flash Memory
Display 3.5 64k colour touch screen (240 x 320 pixels)
Camera 640 x 480 pixels (optional)
Operating system: Windows" Mobile Pocket PC Phone Edition 2003 - (other options available)
File output:
MS Office compatible formats, exported via email, Bluetooth, or cradle through ActiveSync™.
Fields include Job Reference, Tester ID, Site Safe confirmation, Elapsed time, Test ID, Test
time, Latitude, Longitude, Deflection reading 1, Reading 2, Reading 3, Reading final.