Plastic Injection Mould Dies
When you're in the market for excellence in the manufacture of Plastic Injection Moulding Dies, take advantage of the Shamrock team's decades of experience.

We custom design and manufacture for a broad spectrum of clients that have a wide variety of needs. Some of these include:


Hydraulic Ram & Pneumatic Cylinder Seals & Wear Rings
Pipe & Hose Fittings
Electrical & Electronic Industry Circuitry Enclosures, Switches & Componentry
Numerous Mechanical Parts for the O.E.M. (Original Equipment Manufacturing) Industry e.g. Plain Bearing Bushes; Wheels; Kitchen Whiteware Parts; an extensive range of Brackets, Clips & Holders; Pots, Pottles & Pails; Pump & Filter Housings & Component Parts

Most Tooling has an assembled mass of up to 500kg although larger Tooling is also undertaken. Tooling options include:


Single or multi-cavity & 'family' Tools
Standard & Hot Runner Systems
Through hardened steel 'long-run' or 'short-run' Tooling
Pin, Blade & Stripper Ejection Systems
Hydraulic, Pneumatic or Mechanical Core Removal
Hydraulically Powered Rotary Cores
Collapsible Cores
Dedicated or with Interchangeable Inserts
Various Water Cooling Configurations
With or without provision for Product Inserts (e.g. Bearings, Bolts, Nuts, Filter Gauze)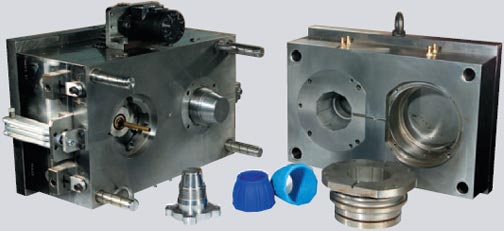 Our experience includes knowledge of appropriate Tool Design and Manufacture for the following range of plastic mould materials:


Polypropolene
Acrylic
PVC (Rigid & Flexible)
Nylons
Glass Reinforced Plastics
Polyethelene
Polyurethane
Thermoplastic Rubbers
ABS
Polycarbonate
Acetyl
Styrenes
FULL CAD/CAM FACILITY
Our full CAD/CAM capability means that, from your Tooling concept, we can comprehensively design then accurately and cost effectively manufacture the finished Tool.
Accordingly, Moulding Dies may be custom designed by Shamrock or produced from client supplied drawings or CAD/CAM files.

2D and 3D design files can be sent and received via email or disk, allowing us to develop and confirm the Tool design in consultation with you. Alternatively, your finished designs may be received electronically and entered directly into manufacture for exact and cost effective production.
QUALITY ASSURED
Manufacture is supported by Shamrock's ISO based Quality Management System and upon final assembly all new Tooling is finish assembled under a "Buddy System" with one Toolmaker supporting & checking the other for the purpose of ensuring Specification Compliance & Quality Assurance.

So if you require quality Plastic Injection Moulding Dies, accompanied by a professional service, call us at Shamrock Industries for a no obligation discussion.